Welcome back to a new edition of The Weekender… where we are sharing the latest in the Russian conflict and the impacts the attacks are having on the U.S. Plus, a look into U.S. President Joe Biden's first State of the Union Address and its effect on women's herstory this Women's History Month. Lastly, the background of the newest U.S. Supreme Court Justice nominee and her unexpected familiar tie to former Speaker of the House Paul Ryan. These stories and more below—thank you for joining the Strategic Elements team for The Weekender.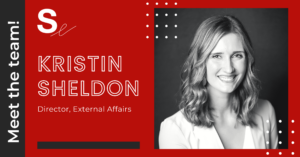 P.S. Get to know Strategic Element's resident coffee connoisseur, Kristin Sheldon (Director, External Affairs), in our series, Getting Personal. Read more here and on our social media pages. 
INTERNATIONAL SPOTLIGHT
Putin's Plan Unfolds
It seems like it is Russia versus the world right now—but Russia's President Vladimir Putin has pressed on with attacks against Ukraine. Countries notoriously known to be neutral are weighing in on the conflict, including Switzerland by imposing sanctions against Russia. Longtime Russian ally Hungary has turned its back on Putin by voicing its support of Ukraine, joining the European Union and welcoming Ukrainian refugees in its country. Misinformation is spreading like wildfire in Eastern Europe, especially with Russian propaganda. Ukrainian companies are fighting back by releasing their own footage for media to use for free. According to leaked Russian intelligence documents, Russia did not expect to be hit this hard globally or have a real fight against Ukraine. The underestimation has hit Russia hard—they believed forces would be able to take Ukrainian capital city Kyiv in a matter of days, however, Ukraine still has control. Ukrainian President Volodymyr Zelenskyy is fighting on the front lines, rather than fleeing as so many leaders have done before him. Russian forces even moved in for an attempted assassination of President Zelensky, but Ukrainian special forces spoiled the plan, bringing embarrassment to the Kremlin. Peace talks have been happening, but nothing of note has occurred. We will be carefully watching this unfold and bring you more information on our website. Read more in The Washington Post. 

THE BIG FIVE
Russia's Mood = Gassy
On the domestic front, American companies are pulling out of long-time, big deals with Russia. The country is not just getting hit with sanctions, but private businesses like Exxon, Shell, and BP are leaving the country behind in response to the attacks. This exodus is already having effects—just one Exxon project in Russia produced tens of billions of dollars for the Russian government. While it will be a slow process (with Exxon saying it won't abandon the factory and will work to dissolve it over time), it will have a large long-term impact on the Russian economy and government. Near-term gas price impacts in the U.S. are fluid; however, gas experts are forecasting prices to rise amid international crude oil prices hitting new heights. Read more in The Hill. 
Biden's Big Night
President Biden had his first State of the Union (SOTU) address this week—and it had points attempting to appease Democrats and Republicans. In a rare move, the speech brought parties across the aisle to stand in ovation while President Biden spoke about democratic unity against Russian aggression. He also discussed inflation and his plan to combat it, but this was not well received by the GOP. However, one of the most interesting pieces of it all was Biden's vocal support of funding the police and increasing border security, going firmly against many of his own party and earning Republican applause for his comments. This move may be to combat Republican criticism ahead of the upcoming midterm elections—arming Democrats with talking points. He also called upon Congress to pass a multitude of bills including the Innovation Act and the Paycheck Fairness Act. The speech lasted one hour and one minute and covered most topics that were on lawmakers' minds. In the GOP response to the SOTU, Iowa Governor Kim Reynolds discussed kitchen table topics, such as masking in schools, lingering side effects of nationwide closures, inflation, and crime rates. Her outside-the-beltway approach was well-received, bringing solutions important to everyday American challenges. Read more in POLITICO.
Women's History Month is Here
March springs forward with Women's History Month, marking more to celebrate this year. First, the latest State of the Union address was the
first with two women
 sitting behind the U.S. President, with both the Vice President and Speakership claimed by women. Likewise, America will likely see its first sitting Black Woman Supreme Court Justice (more on that below). This year's 
theme
 is "Women Providing Healing, Promoting Hope", putting an emphasis on the women who helped fellow Americans during the pandemic and continually provide hope to others. As a women-owned business, we would like to recognize 
the women of Strategic Elements
and the special women in your lives: thank you for all you do! Read more in
National Geographic
. 
Speaking of Women… Who is Biden's Supreme Court Nominee Pick?
President Biden has officially announced his pick for Supreme Court nominee: DC Circuit Court Judge Ketanji Brown Jackson, also currently known as "KBJ" by the media. Judge Jackson has already gone through the Senate approval process last year when she was nominated to the DC court and was confirmed 53-44 with three Republicans voting to confirm. Judge Jackson has clerked in the Supreme Court under Justice Breyer, whom she would be replacing. She was born in Washington D.C. and grew up in Miami before moving to Boston to attend Harvard for both undergrad and law school. Notably, Harvard has a track record of being the starting point for Supreme Court Justices. While Judge Jackson's current position as a judge in the circuit court can help her case, it could also hurt her. It will give us a sneak peek at confirmation hearings, with it unlikely that Senators will sway from their original vote showing signs of hope for confirmation. However, critics are pointing out Judge Jackson only posted one, single decision during her time on the D.C. bench, questioning if she is ready to be the replacement in the nation's highest court. Confirmation hearings are expected to ramp up this month—with a vote likely in early June. This is sure to be a fiery confirmation, with little to no room for error for Democrats with their slim majority. Read more in The New York Times. 
The New Norm: More than Salary
The job market is pushing unconventional perks instead of salary bumps in lieu of inflation. Companies are unable to meet the cost of inflation and do not want to lose their employees because of it. The current inflation rates are higher than average, and (hopefully) not permanent. However, salary bumps normally are permanent and have a long-term effect on the bottom line. Instead, some companies are increasing their paid time off, making work from home permanent and declaring Fridays meeting-free. A recent survey showed 45% of companies are now offering flexible work schedules to also combat turnover. Without a doubt, work norms are changing, and salary is not the only factor for employees. Read more in The Wall Street Journal. 
DATA POINTS
1 million: The number of refugees from Ukraine that have fled to neighboring countries since Russia launched its unprovoked invasion of Ukraine, according to NPR. They have been crossing into Poland, Hungary, Moldova, Romania and Slovakia.
60 million: The number of barrels of oil the International Energy Agency countries have agreed to release to help volatility in global oil markets set off by Russia's invasion of Ukraine. Oil prices have recently surged to over $100 a barrel in response to the war.
11%: The percentage increase of the average hourly rate for a babysitter in 2021. The increase, which is driven by the national labor shortage, is beneficial for babysitters who have traditionally been underpaid.
27 years: The amount of time that has passed since the MLB has seen a large-scale labor dispute between the league and the players' association, which resulted in postponing Opening Day. The last time players went on strike was in 1994, leading to the cancellation of the World Series.
7-23 million: The estimated number of Americans who have experienced "long COVID", a catch-all term for roughly 200 symptoms ranging from memory issues, chest pain, and dizziness upon standing after catching COVID-19.
3+: The number of social media platforms that have banned Russian state media outlets in Europe to slow the spread of misinformation and Russian war propaganda on the Russia-Ukraine crisis.
67%: The percentage of viewers who reacted "optimistically" to President Joe Biden's State of the Union Address (SOTU).
965,863: The number of votes Beto O'Rourke received in the Texas Democratic primary, establishing him as the Democratic challenger to Gov. Greg Abbott.
FEATURED TWEET
So everyone has it down:

KBJ is Paul's wife's sister's husband's brother's wife.

— Brendan Buck (@BrendanBuck) February 25, 2022
 Credit: Brandon Buck on Twitter. 
 To receive a copy of The Weekender every Friday in your inbox, sign up here. Be sure to follow us on Facebook, Twitter, and LinkedIn for more news and industry updates.