Welcome back to a new edition of The Weekender… where we are taking a look at the leaked Roe V. Wade ruling and which companies are taking a stance. Plus—how did Trump and Trumpism affect the Ohio primaries? We are breaking it down for you. Also—interest rates reach new heights, and people are leaving their jobs at record rates. These stories and more are below in The Weekender. Thanks for kicking off the weekend with us.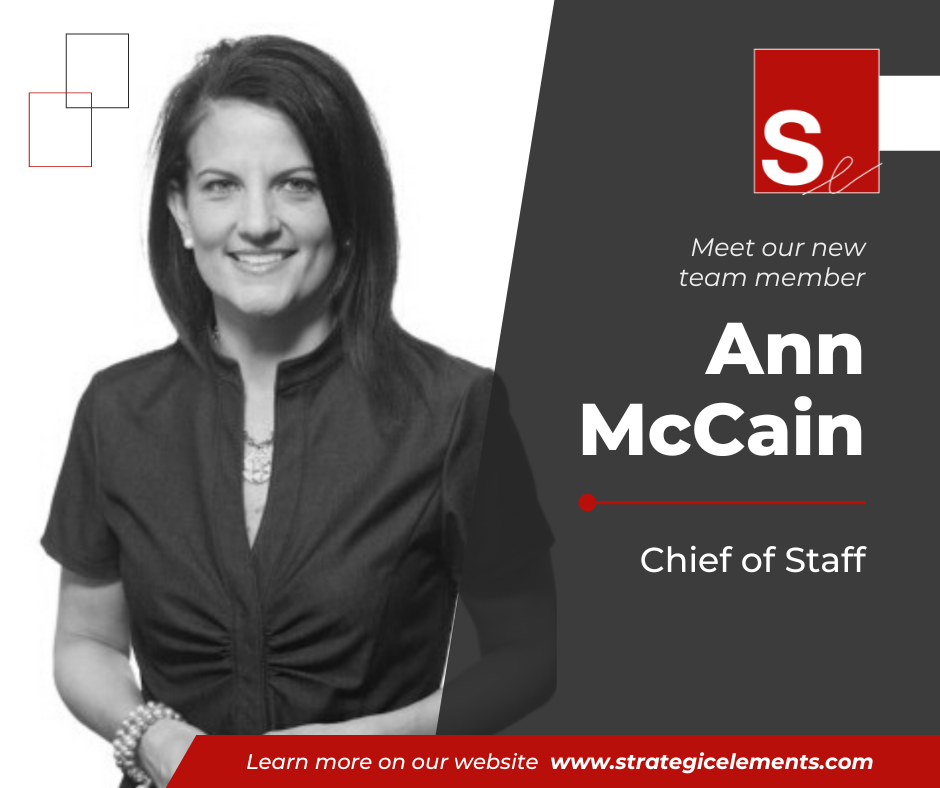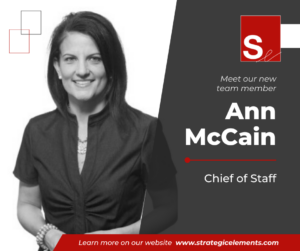 P.S. Meet Strategic Elements' new Chief of Staff, Ann McCain, a politico and thought leader committed to advancing business priorities by strengthening culture and developing talent. Learn more about Ann and the problems she can help solve here.

THE BIG FIVE
A Seismic Leak
This week, a leaked draft ruling reveals the U.S. Supreme Court has decided to overturn Roe v. Wade. The leaker's identity has not been revealed, but a formal investigation is underway to unmask whoever is responsible. This is not the first time a decision has been leaked surrounding this case. The original ruling was leaked at a much smaller scale—hours before the formal ruling was released. This time, it will have a much larger impact on court security. Roe v. Wade is set to be overturned, and pro-choice advocates are fired up and fighting back. However, their target is not the Supreme Court Justices, it is reported to be Congress and state legislatures. California, which would not be impacted by the ruling, has already announced new protections for abortion rights—and other states, such as Connecticut and New York—have followed suit. If the ruling stands, the law is pushed over to the states. Thirteen states would ban abortion immediately or very quickly, including Idaho, Utah, Wyoming, Texas, Oklahoma, South Dakota, North Dakota, Missouri, Arkansas, Tennessee, Kentucky, Louisiana, and Mississippi. The drafted ruling will not be official for at least another two months, and the leaked draft may not be the final opinion. Things to watch: corporations are under pressure to take a pro-choice stand as Amazon vows to reimburse employees for abortion travel costs, which is just the latest in a list of companies moving to pay for abortion-related expenses. How will corporations balance competing pressures on an issue that has divided Americans for nearly five decades? And how will the decision impact the midterm elections? Many see the issue as a motivator for an otherwise demoralized Democratic base, but does it trump inflation and the threat of recession? Only time will tell. Read more in The Washington Post. 
Hiking Interest Rates: What It Means for Your Debt
Interest rates have been raised once again, making it more expensive to borrow just about anything. The U.S. Federal Reserve announced another 0.50% increase in interest rates—adding to the already record-high increases and making it the largest move in over twenty years, which will have a profound effect on those borrowing on their credit cards, taking out a loan and adding to an adjustable-rate mortgage. To add to the current craze of the housing market (a story we brought to you last week), it will also make new mortgages higher and the affordability of homes even lower. On the flip side, your savings account will pay you more due to the interest rates climbing—hopefully bringing some relief to your accounts. Read more in The Associated Press. 
The Great Resignation is Greatly Confused
Employees are sending in their resignation letters at 
record rates
: 4.5 million Americans quit their positions in March. 
Many employees
 see the vacancies as an opportunity to jump to another company and have more room to negotiate higher wages and better benefits as companies are in desperate need of employees. This amounts to a reshuffling from company to company, rather than workers leaving the workforce completely. Is this reshuffle worth it? One 
survey
 showed about one in five workers who recently quit their jobs regret it. Likewise, employers are rushing to fill positions and are cutting corners, taking on new hires and not finding the right fit. 
Experts
 say it may cause a slowdown in the historic quit rates, and the Great Resignation may be coming to an end—but they also said that the 
last time
the data hit a high. Read more in
CNBC
. 

Primary Season Heats Up Ohio
Primary season is here, providing major insights into what will happen in November—and even the next U.S. Presidential Election. Ohio's Senate Republican Primary Election brought no surprises: J.D. Vance crossed the threshold as the winner. The Trump-backed candidate will move on to the general election against Democrat Tim Ryan. Vance ran against a more traditional field of Republicans, but Trump's power over the GOP held true once again – kind of. Could it be a forecast for the rest of the primaries? Will Trump's endorsement sway voters? While it worked in the Senate race, the Ohio incumbent governor secured the primary without Trump's endorsement, which is the first major primary election of the cycle. This begs the question—is 
Trumpism
the new lead for the GOP? The governor's race may show Trumpism is not the end-all route the GOP must follow in the midterms elections, but a Trump endorsement may not hurt either. Read more in
the New York Times.
How China's Strict COVID Policies Impact the Economy
COVID-19 has once again hit China, and the country has reimposed lockdowns. With employees unable to go to work, the manufacturing industry has seen a massive slow down—which is a sign that the United States' manufacturing will soon hit roadblocks. With many supplies coming from China unable to be produced, the U.S.' production will soon not have the supplies to manufacture their own goods. The domino effect was seen in the early stages of COVID-19; the U.S. is working to avoid repeating this mistake and now relies on other countries, rather than solely China, so the effects will not hurt the U.S. economy as drastically. Experts say the clothing industry will be hit the hardest, as well as household electronics, appliances, and furniture. So, if you're in the market to redecorate your home or buy a new wardrobe, put in those orders before it is too late. Read more in Bloomberg. 
INTERNATIONAL SPOTLIGHT
Russia-Ukraine War's Impacts will be Felt for Years to Come
The Russian-Ukrainian war has a new front this week with the G-20 meetings. The U.S. vowed to boycott some meetings between the global leaders to protest the fact that Russia is involved and included. This sets the stage for a new phase of the war—diplomacy. Treasury Secretary Janet L. Yellen announced she will join the meeting to show support for Ukraine's finance minister but will not join the other meetings as Russia will be involved. The catch? The discussions centered around what the leaders will do in response to Russian aggression. The U.S. needs to be involved in those talks, especially as Russia claims its economy is better than it really is, which is not the only misinformation the Kremlin is pushing out these days. With a majority of their forces fighting in Ukraine, are fewer soldiers to deploy, which may ease some fears of a global attack. Read more in CNBC. 
DATA POINTS
6 months:

The amount of time until employers in New York City are required to post the maximum and minimum salary for a role, which is quickly becoming a trend. Salary transparency is believed to be a way to diminish unfair gender and racial pay disparities.

65:

The age that which commercial pilots must retire, per FAA rules. The U.S. will lose about half of its pilots to retirement in the next 15 years, furthering the massive pilot shortage. This could mean higher prices and more cancellations for travelers.

8.3%

: The percentage of votes by which J.D. Vance won in the Ohio U.S. Senate Primary Election. Vance was in third place in the polls with about 10% support before former President Donald Trump endorsed him, showing the value of a Trump endorsement in Republican campaigns.

$35,000:

The price of a Met Gala ticket. According to Vogue, before each gala, editor-in-chief Anna Wintour approves the invitees more than 500 times. On Monday, A-listers flocked to the Metropolitan Museum of Art for the 2022 event with the theme of "Gilded Glamour."

 

10 tons:

The amount of black carbon emissions cruise ships put into the ocean annually. Although cruise ships make up only 1% of the global fleet, they also account for 6% of black carbon emissions, revealing how disproportionately bad they are for the environment.

98:

The number of pages drafted by the Supreme Court that was leaked on Monday night. The document states that the Supreme Court will plan to overturn Roe v. Wade, making abortion immediately illegal in at least 13 states. 

17 years:

The amount of time Detroit staple Grandy's Coney Island has been charging $0.99 for a coney dog. Due to increasing costs for ingredients, they raised their price a few months ago to $1.10.

20 hours:

The length of flights that Qantas Airlines calls the "final frontier of long-haul travel" that they plan to begin in 2025. Currently, these 20-hour flights are planned from Sydney to New York and London.
FEATURED TWEET
All that "gilded glamour" brought in some real gold. This year's Met Gala earned a record $17.4 million (via AP) https://t.co/q4J3B9j3pZ

— Bloomberg Pursuits (@luxury) May 4, 2022
Credit: Bloomberg Pursuits on Twitter. 
To receive a copy of The Weekender every Friday in your inbox, sign up here. Be sure to follow us on Facebook, Twitter, and LinkedIn for more news and industry updates.