Welcome back to a new edition of The Weekender… where we dive into the Russia-Ukraine conflict and its domestic implications. Plus—we discuss the media's evolving role in social movements, and how one Twitter bot is causing waves in the gender pay gap fight. Lastly—U.S. President Joe Biden makes a monumental move in the crypto world, and governors are turning back to the age-old trick to sway voters: cash. Catch up on these stories and more below in The Weekender. Thanks for joining us.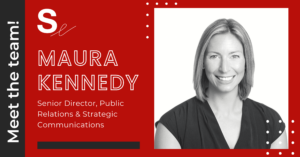 P.S. Get to know our resident journo: Maura Kennedy (Sr. Director, Public Relations & Strategic Communications) in our latest edition of "Getting Personal," an inside look into the Strategic Elements team.
Reminder to "spring forward" this Sunday, March 13, 2022, for Daylight Saving Times and sign up for our weekly newsletter here.
INTERNATIONAL SPOTLIGHT
Russia Attacks Hit American Wallets 
The Russia-Ukraine war remains at the top of everyone's mind; as we head into another week of the conflict, the U.S. has more to do with it than ever before. Less than a week after Biden's bombshell announcement, we are seeing the implications of banning Russian oil purchases at the pump, with gas hitting record highs and projections saying it is only the beginning. Ukrainian President Volodymyr Zelenskyy pleaded with NATO to impose a no–fly zone over the country this week. In theory, it may seem like a small task. However, enforcing a no-fly zone would mean going toe-to-toe with Russian aircraft. This week, U.S. Vice President Kamala Harris visited Poland to reiterate the U.S.'s commitment to the border country and other NATO allies. The Veep also announced that more U.S. forces will be deployed to help should the invasion draw closer to Poland. To add fuel to the we-are-going-into-WWIII fire, the United States has announced it is investigating Russia's human rights violations and gathering evidence for possible war crimes following reports of multiple civilian locations being bombed this week. Russia denies these claims, but evidence shows the country has targeted hospitals, maternity wards, and other civilian hub spots in their latest attacks. Domestically, this conflict is having a significant impact on Americans with the highest gasoline prices in years, and we have yet to see how the conflict ends. Read more in The Associated Press. 
THE BIG FIVE
The Media's Evolving Role
The media has a powerful hold on U.S. households—they show Americans what is happening outside their neighborhoods, states, and country, and they have the editorial privilege to decide what is shown. Now, the media is taking on another role and shining the spotlight on the history of the struggle for civil rights in the U.S. and the way the movement carries on. Historically, showing the brutalities and demonstrations of the era has raised awareness of the positive progress society has made. More recently, cameras have captured the Black Lives Matter movement and its protests, trials, and demonstrations, exposing American households to current civil rights events. Now, Black women filmmakers are making their mark by telling their sides of the story. Oprah Winfrey and Shonda Rhimes are TV powerhouses (Rhimes even has a night to herself on ABC—exclusively running shows that she created), telling their stories and providing examples of prominent Black women leaders. Black women have always been a driving force in America—and now the world is seeing and listening to their stories. Read more in USA Today. 
Biden's Big Bitcoin Bill
U.S. President Joe Biden signed an executive order this week to address cryptocurrencies' lack of framework in the United States. This news came with mixed reviews—some in the industry welcome the move, and others say it will hold the U.S. back while pushing other countries forward. The price of Bitcoin, one of the most popular cryptocurrencies, jumped a whopping 8% after the announcement. The executive order does not have any immediate effect but lays the groundwork for actions to regulate the digital currency. The action is the first executive order involving cryptocurrency and comes after months of warnings from the Biden administration. Experts say this executive order will not actually do much, but the bigger message it sends is clear: the United States government sees cryptocurrencies as real, serious forms of payment. The simple read: the federal government now embraces cryptocurrencies, ensuring their long-term impact on the economy. Read more in CNBC. 
All Talk and No Pay this International Women's Day
Companies worldwide tweeted to celebrate International Women's Day and their women employees—showing deep appreciation for their work while many are still paying them at lower rates than their male counterparts, as one Twitter bot calls out. The bot, appropriately named @PayGapApp, has quote tweeted over 2,000 United Kingdom companies since its creation—all with the same format: "In this organisation, women's median hourly pay is XX lower than men's." This bot calls out a larger issue: urging companies to put their money where their mouths are and finally pay women fairly. In hopes of achieving pay equity across the board, companies like LinkedIn are highlighting what major U.S. companies are doing to fight the gap, which you can check out and share with your co-workers here. Read more in Fast Company. 
Big Checks for Votes
In hopes to woo voters, Democratic governors are handing out checks ahead of the upcoming election. Possibly taking a page out of California Governor Newsom's playbook, where he announced a new round of stimulus checks weeks before his recall election, Democratic governors in Wisconsin, Maine, and Kansas are exploring options to give the people what they want: cold, hard cash. Ranging from $150 to $500, the governors have announced these funds would come in the next few months, ironically (or not so ironically) right before their competitive races. Meanwhile, no less than ten states with Republican governors are pushing individual income tax cuts in the legislative sessions taking place across the country. Iowa (the birthplace of Strategic Elements) just enacted the largest tax cut in the state's history. Whether through rebates, income tax cuts, or the flavor-of-the-moment moves to give a reprieve on state gas taxes, 2022 appears to be a year of "giving back" to voters. Did we mention that it's also a mid-term election year? Read more in The Hill. 
Little Too Late for Lead
Lead still impacts Americans, according to a study that found half of U.S. adults have been exposed to harmful lead levels as children. The number includes more than 170 million U.S. adults, showing the vast number of people exposed. While many Americans think that lead is a thing of the past, the truth is the deleterious effects of the toxic metal continue to linger. Lead levels were found to significantly affect the exposed adults' brains, having caused an average of a 2.6 point drop in IQ levels. While most people think the ban on lead paint has led to the disappearance of side effects, this could not be further from the truth. Lead is still found in everyday life in batteries, solder, pipes, pottery, roofing materials, and even some cosmetics. No lead exposure is safe—so why is it still legal to use in products? Even though Congress has passed several laws regulating lead, the regulations are years behind the science. Read more in The Associated Press. 
DATA POINTS
2.3 million: The number of refugees who have fled Ukraine as of Friday morning, March 11. Russia claims it is allowing "humanitarian corridors" for the safe passage of civilians, but Ukrainian officials have reported multiple instances of shelling along those routes since opening the corridors.
111: The number of attorneys who worked on Former President Donald Trump's post-election lawsuits. The 65 Project is trying to disbar the attorneys and hopes to deter any right-wing legal talent from signing onto efforts that overturn future election results. 
$10 million: The dollar amount spent by former Vice President Mike Pence's advocacy group, Advancing American Freedom, on TV advertisements targeting House Democrats on energy policy amid the crisis in Ukraine. The new ad shows Pence working on a political brand independent from former President Donald Trump.
250 million: The number of barrels of oil and fuel U.S. companies imported from Russia last year. President Joe Biden recently announced that the U.S. will ban imports of Russian fossil fuels including oil, a major escalation of Western efforts to hobble Russia's economy that will further strain global crude markets.
42%: The percentage of Americans polled in 2021 who identified as political independents. Elections have become highly competitive because neither the Democratic nor the Republican party can claim a considerable share of supporters.
30%: The percentage increase of the net flow of workers in the software and IT sector who moved into the Miami region. Miami, Orlando and San Diego are becoming fast-growing coastal hubs for tech talent in the rise of remote work.
200: The number of bills that have been introduced to try to explicitly ban lynching in America. This week, the Emmett Till Anti-Lynching Act, a bill designating lynching as a federal hate crime, is on President Biden's desk.
5,530: The number of sanctions that have been imposed on Russia, making the nation the most sanctioned country in the world. Since February 22, 2022, more than 2,778 new sanction designations have been put on Russia.
FEATURED TWEET
Yo Yo Ma was just playing his Cello in front of the Russian embassyhttps://t.co/LBinumL3Zb

— Franco Ordoñez (@FrancoOrdonez) March 8, 2022
 Credit: Franco Ordoñez on Twitter. 
 To receive a copy of The Weekender every Friday in your inbox, sign up here. Be sure to follow us on Facebook, Twitter, and LinkedIn for more news and industry updates.