Welcome back to a new edition of The Weekender… where the mask debates come to a head, and Netflix is reporting massive losses. Plus, we're taking a look at Elon Musk's big move to buy Twitter and the Russian-Ukraine war's "new phase." Also, we found some of the best tweets featuring the spring snowstorms that hit the nation this week, bringing you one below in our Featured Tweet. Thank you for joining and kicking off your weekend right here with the Strategic Elements team.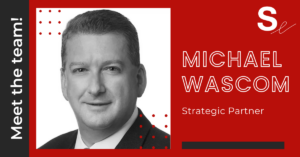 Get to know Strategic Elements' favorite Scottish Terrier owner and Strategic Partner, Michael Wascom, in our latest edition of "Getting Personal," an inside look into the Strategic Elements team.
THE BIG FIVE
Inflation Stops Infrastructure Spending
The passage of the infrastructure bill was one of the Democratic party's biggest wins in the last two years—and as mid-term elections heat up, they are touting this success. What has actually happened to the funds of the bill? So far, not much. One overwhelming issue that makes using these funds complicated is inflation. Yes, inflation is once again throwing a wrench into plans—but this time, it's at the national scale. Inflation is causing construction prices to skyrocket and supply chains to be disturbed, which forces the projects to come to a halt and undercuts the benefits of the bill's passage. If Democrats want to continue celebrating their win, they may need to find a solution for inflation so that the projects can actually begin construction. Read more in POLITICO. 

To Mask or Not to Mask
The ever-growing debate over mask mandates has reached a new high this week, with a federal judge striking down the mandate on transportation earlier this week. The ruling caused pilots to announce that masks are no longer mandatory mid-flight—and Americans took to social media to debate the ruling. Shortly after, many major transportation companies, including Uber and Delta Airlines, dismissed their own requirements for masking while in transit. Three days after Philadelphia reinstated the mask mandate, with the mayor defending the reversal in an interview with The Washington Post, the Democratic city rescinded the policy. Before the announcement by the federal court, U.S. President Joe Biden was overheard saying masks should be optional but has since changed his tune, calling the decision "disappointing". The CDC is still assessing whether or not travelers need to mask up, and the Justice Department is ready to appeal the decision if the CDC finds that masks should be required as a matter of public health. Read more in The New York Times. 
4/20 Investors are not Feeling the High
Participants may have been riding high this week to celebrate the unofficial holiday of 4/20, but investors in the weed industry are facing sobering news—and it does not look like there will be a change anytime soon. Legislation giving federal recognition and decriminalization of marijuana has passed the House of Representatives; however, it will hit the Senate floor four months later than originally planned, and its future is blurry. Analysts are dubious about its chances of passing the very split Senate chamber, and the bill is set to come to a vote right before the mid-term elections. To add to the come-down for the industry, the AdvisorShares Pure Cannabis ETF, which tracks cannabis stocks, has seen the stocks decrease by more than half over the past year – sobering news. Blunting that harsh news: many states have taken matters into their own hands and have legalized and expanded the use of cannabis at the state level, giving investors a hit of good news for users and creating some buzz among investors. Read more in The Wall Street Journal. 
Streaming Sorrow: Netflix's Big Dive Targets Shared Passwords
Netflix took a massive hit this week as they reported subscribers are down, and its stock plummets in response. After ten years of growth, the streaming platform now has more competition than ever before—and is
now taking a hit
. Netflix has increased prices, turning customers to other platforms for their entertainment needs in retaliation. The service plans to unveil a 
cheaper option
, with one hitch: it will have ads. This is not the company's only plan to increase revenue; it has also announced it will crack down on 
password sharing
—that means using your old girlfriend or parents' passwords to log into accounts will no longer be an option (we get it—we're also upset by the news). Netflix once was the go-to for streaming, and with such an influx of competitors, it is having an identity crisis (we also get that too). Read more in
WIRED.
Elon's Next Move
Elon's big move to buy Twitter seemed almost impossible after the social media app's board created a poison pill clause that does not allow Musk to buy the company. However, the Tesla founder may have another plan up his sleeve (and we are not surprised he would find a way around it). Musk's new strategy: bring in Morgan Stanley and raise even more money for an offer the board can't refuse. Sources claim Musk will place a $43 billion (yes, billion) bid to buy the social media platform. Money may not be able to buy happiness… but it can buy the brightest minds in the world to figure out a loophole to buy a short-form messaging platform. Read more in FOX Business. 
INTERNATIONAL SPOTLIGHT
The New Phase of War
The Russian-Ukrainian war has a new front this week with the G-20 meetings. The U.S. vowed to boycott some meetings between the global leaders to protest the fact that Russia is involved and included. This sets the stage for a new phase of the war—diplomacy. Treasury Secretary Janet L. Yellen announced she will join the meeting to show support for Ukraine's finance minister but will not join the other meetings as Russia will be involved. The catch? The discussions centered around what the leaders will do in response to Russian aggression. The U.S. needs to be involved in those talks, especially as Russia claims its economy is better than it really is, which is not the only misinformation the Kremlin is pushing out these days. With a majority of their forces fighting in Ukraine, are fewer soldiers to deploy, which may ease some fears of a global attack. Read more in The Washington Post. 
DATA POINTS
480%: The increase in lithium costs since last year. Electric vehicles (EVs) are run by lithium-ion batteries, causing the price of vehicles to skyrocket. Two EV manufacturers—Rivian and Tesla—have hiked prices, saying expensive raw materials are partly to blame.
$165 million: The profit that Infowars radio host Alex Jones made from merchandise from 2015 to 2018. This week, Jones filed for Chapter 11 bankruptcy, citing major financial losses from a defamation lawsuit by the relatives of victims of the 2012 Sandy Hook massacre.
61,220:

The record number of applicants who applied to Harvard University this year. The school accepted just 3.2% of students (1,954). After lifting requirements for ACT/SAT standardized testing, elite schools saw a surge in applicants.

292: The number of times a Florida man has watched Spider Man: No Way Home, setting a world record. Ramiro Alanis estimates that he spent around $3,400 on movie tickets during the three months it took to set the record.
200,000: The number of jobs at risk in Moscow, Russia, due to the "Western Exodus," which is a term used to describe the surge of Western companies pulling their business out of Russia because of the ongoing conflict in Ukraine. 
4+: The number of U.S. airlines that have mask mandates for domestic flights following a ruling that overturned the federal mask requirement on airplanes, trains, and other forms of public transportation.
140: The number of mass shootings that have occurred in the U.S. this year. Last year alone, 689 mass shootings took place across America. 
2:21:01: The finishing time of marathon running Kenyan Olympian Peres Jepchirchir, the Women's Champion of the Boston Marathon.
FEATURED TWEET
"I'm heading to Kroger, need anything?" #MichiganSpring pic.twitter.com/H6Beklzi36

— Hour Detroit Magazine (@Hour_Detroit) April 18, 2022
 Credit: Hour Detroit Magazine on Twitter. 
 To receive a copy of The Weekender every Friday in your inbox, sign up here. Be sure to follow us on Facebook, Twitter, and LinkedIn for more news and industry updates.