Welcome back to a new edition of The Weekender…where political parties are facing ideological fights, and student loan forgiveness is on everyone's mind. Plus—Thursday night football will look different this year, and Twitter is facing a lot of issues. And—there is a Jurassic surprise in this week's tweet of the week. Thank you for starting your weekend right here with our team.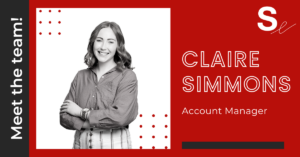 From her daily walks to always having a pulse on the industry, Strategic Elements Account Manager Claire Simmons is getting personal. Read more here.
THE BIG FIVE
Inter-party Fighting Comes to a Head 
Election watchers search for signals and trends. This week, they are focused on one race and whether it is a sign of things to come in November. New York's 19th Congressional District special election on Tuesday has prognosticators buzzing. The seat became open earlier this year when Antonio Delgado resigned to become lieutenant governor — leaving one of the most competitive districts in the nation up for grabs. With Democrat Pat Ryan's win, Democrats are using it as a case study—stating if they want to control the House next year, they must focus on abortion rights and other key social issues as Ryan did. Republicans counter that special elections are unreliable predictors for fall elections and that inflation and President Biden's low approval numbers will drive a red wave. To add to the midterm fury, both parties are caught in inter-party fighting as ideological differences are bubbling up. One of the most prominent examples is Liz Cheney, who lost her Wyoming primary earlier last week after facing backlash from her own party for joining the House Select Committee on January 6th attack on the Capitol. Democrats were also in a sticky situation when incumbents Jerry Nadler and Carolyn Mahoney were placed in the same election due to re-districting. In a battle of senior Democrats, Nadler secured victory this week—ending Mahoney's 30-year run in Congress. With only five primaries remaining, eyes are turning to the general. You can count on us for your political news developments. Read more in The New York Times.
Student Loans: Forgiven but Not Forgotten 
Student loan forgiveness is the hot topic in Washington (and the nation) this week. While President Biden's significant new plan to cancel student loans has many people — and grads — jumping for joy, others see it as an unfair handout. The program is a wide-scale student loan cancellation of up to $10,000. The plan lays out up to $20,000 in loan forgiveness for borrowers who received a Pell Grant. The relief is available to borrowers with an income cap of $125,000 individually and $250,000 for joint households. The federal student loan payment extension will also stay paused through December. While this policy works for some people, others have doubts. Progressive Democrats tried pushing for the forgiveness of $50,000 per borrower, moderate Democrats are wary the issue pits working-class voters against college graduates, while Republicans say the policies are unfair to both those who paid off their loans or didn't take them out in the first place (primarily workers who did not go to college). The controversial plan has experts saying that President Joe Biden could be doing this to win over voters for the upcoming midterm election. Biden's approval rating continues at a personal low, and the student debt cancellation—among other policy victories—could help address voters' faith in the President and the Democratic party. Read more in Forbes.
Twitter Is Feeling a Little Insecure
This week, Twitter joins the list of social media platforms put in the hot seat by a former employee turned whistleblower. The hot topic of discussion? Major security concerns. Peiter Zatko, Twitter's former head of security, filed complaints with the Securities and Exchange Commission (SEC), Federal Trade Commission (FTC), and the U.S. Department of Justice (DOJ) about the company's "egregious deficiencies" in privacy, physical and digital security, and content moderation. Zatko's complaint to the SEC was also sent to lawmakers on the Senate Judiciary and Intelligence Committees, who subsequently said they would conduct their own investigations. Zatko was recently subpoenaed to testify in front of the Senate Judiciary Committee on September 13. The Washington Post reports that among Zatko's complaints, one triumphs above all else: a claim that Twitter violated the terms of an 11-year-old settlement with the FTC and falsely claimed it had a "solid security plan." Among the claims to the SEC, Zatko said that Twitter CEO Parag Agrawal deliberately minimized issues surrounding spam bots and asked Zatko to provide false or misleading documents — a claim, if true, could help Tesla CEO Elon Musk in his suit over pulling out of a deal to purchase the platform. Musk, who accused Twitter of misrepresenting the prevalence of bots and fake accounts on its service, signed a binding agreement to acquire the company but was quick to say he would use the whistleblower allegations in court against the platform. The outcomes of a potential federal investigation and ongoing legal battle with Musk are not yet clear for Twitter and its leadership, but there is no doubt they wish this bird wasn't singing. Read more in CNBC.
Queue Thursday Night Football Intro 
NFL's Thursday Night Football is officially moving to Amazon Prime Video this season—and it is good news for marketers aiming to captivate audiences over streaming services. For the first time, the streaming service will measure its live programming and be included in national TV ratings as part of Nielsen's national TV measurement service. Using Nielsen's panel, Thursday Night Football will be measured and processed like all other NFL games. The same metrics will be reported across all national networks. Last season on FOX, Thursday Night Football was ranked third in primetime. Advertisers can compare how this new broadcast measures up to last year and access insights to understand brand awareness, engagement, and sales. Meanwhile, Nielson is gearing up to launch a cross-platform tool that will permit publishers and marketers to transact on a single metric across linear and digital platforms called Nielson One. While good news for marketers, it is not great news for football fans and cable users, adding yet another streaming service viewers must subscribe to in order to watch games previously carried by cable networks. Read more in AdWeek.
Don't Come Knockin' on my Door  
Bad news for realtors this week: United States new homes sales fell to a six-and-a-half-year low this week—the slowest pace since early 2016. Due to high mortgage rates and even higher home prices, buyers are taking a pass on purchases until the market cools down. To be clear—this is exactly what the Federal Reserve wanted when they raised rates earlier this year, citing that the increase would bring down inflation and slow down the economy. With more than 500,000 units sold last month, the Northeast saw the highest sales, and the Midwest and West saw the lowest. Not only are realtors taking the hit—but homebuilders and housing developers are also slowing down new builds as the market takes a dive and supply chain issues continue. Read more in Bloomberg.
INTERNATIONAL SPOTLIGHT
Six Months In: Here's Where Russia's War Stands 
This week marked a somber anniversary: Russia invaded Ukraine six months ago, catapulting a global food shortage, an energy crisis in Europe, and wreaking havoc across Ukraine. As the war rages on, peace talks have been minimal, and Moscow is upping the ante. On Wednesday, Ukraine celebrated its Independence Day like never before, with celebrations and explosions, renewing its stance as a sovereign country while fighting for its independence once again. That same day, a Russian rocket struck a Ukrainian train station, killing 22 people and injuring dozens. Ukraine President Volodymyr Zelenskyy announced the attack at a United Nations Security Council meeting, while Russia did not comment. This attack is one of many that has targeted Ukrainian civilians and civilian infrastructure—and it's expected to continue. The U.S. State Department issued a security alert this week warning that Russia is "stepping up efforts" against Ukraine's civilian infrastructure and government facilities. The alert also advised American citizens still in Ukraine to "depart Ukraine now." Experts say the conflict is far from over and have growing concerns as to the war's future. However, the State Department says that the "Ukrainian people are deeply united in the face of Russia's full-scale invasion" and that a survey reflects that "87% of Ukrainians show unprecedented optimism about Ukraine's future." Read more in The Associated Press.
DATA POINTS
77 years: The average life expectancy in the U.S. in 2020, according to a new report by the Center for Disease Control. During the first year of the pandemic, the U.S. life expectancy saw a 1.8-year drop, with New York seeing a 3-year drop in life expectancy. The decline marked the biggest drop in U.S. life expectancy since World War II, when the figure fell by 2.9 years in 12 months.
38 years:

Doctor Anthony Fauci's tenure as the Director of the National Institute of Allergy and Infectious Diseases (NIAID), chief of the NIAID Laboratory of Immunoregulation, and his role as chief medical adviser to President Joe Biden. Dr. Fauci announced this week that he will be stepping down from his position in December.
700:

The number of pages of classified material recovered from former President Trump's Mar-a-Lago resort and residence in January of this year. Additional classified materials were recovered in June and during the FBI search earlier this month.  
$10,000:

The amount that The White House will forgive in student loans for borrowers who make less than $125,000 annually. The President announced this week that the administration will forgive $20,000 to borrowers that received Pell Grants.
1.3 million miles:

The distance that NASA's historic Artemis I rocket will travel over the course of 42 days orbiting around the moon. Artemis I is expected to return to Earth, landing off the coast of San Diego, California, on October 10. 
420,000:

The number of new apartments that are forecast to be built in the U.S. this year. This marks the first time since 1972 that more than 400,000 new apartments were completed in two straight years.
3,000:

The number of jobs that were cut at Ford in the U.S., Canada, and India. The layoffs were part of the company's latest effort to cut costs and refocus on core products and growth opportunities.

17.1 million:

The average number of viewers who watched National Football League (NFL) games in 2021. The NFL's pre-season ends on Sunday, leading into the regular season.
FEATURED TWEET
At Dinosaur Valley State Park in Texas, falling water levels have revealed dinosaur tracks — the latest discovery as bodies of water around the world dry up amid a drought.

"They're spectacular," one paleontologist said. "You can see the toenails."https://t.co/dwYKX2g9Gb pic.twitter.com/H5RKYBfnBd

— The New York Times (@nytimes) August 24, 2022