Welcome back to a new edition of The Weekender… Where U.S. President Joe Biden visits Brussels amid a NATO Summit to discuss the ongoing conflict in Ukraine and what that means for Americans. Plus—we're diving into the heated partisan politics of Ketanji Brown Jackson's Supreme Court confirmation hearing and the unexpected, yet refreshing, bipartisan relationships stemming from it all. Also—we are taking a look at the legacy of Madeleine Albright, the nation's first female Secretary of State whose story emulates the American Dream. All of these stories and more in The Weekender. Thanks for joining us.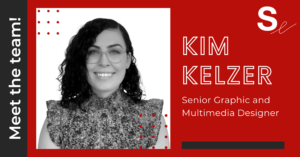 P.S. Get to know Senior Graphic and Multimedia Designer, Kim Kelzer, in our latest edition of "Getting Personal," an inside look into the SE team.
Get The Weekender sent right to your inbox. Sign up for our weekly newsletter here.
INTERNATIONAL SPOTLIGHT
Sanctions, Refugees, and Hypersonic Missiles 
As Russia continues to falter its efforts in Ukraine, the U.S. is putting on the pressure, and it's causing friction. According to USA Today, U.S. President Joe Biden confirmed Russia's use of hypersonic missiles. In a speech this week, President Biden said that Russian forces are turning to more severe tactics because "it's the only thing that can get through (Ukrainian forces)." What was originally thought to be an easy Russian victory has quickly become a slog. During a meeting at NATO headquarters, President Biden announced that the U.S. will expand sanctions on Russia and accept 100,000 Ukrainian refugees, an Associated Press report says. As the U.S. and European allies gathered to speak on the conflict, Ukrainian President Volodymyr Zelenskyy asked NATO for "military assistance without limitations." As the U.S. continues to balance its involvement, Americans in the states are calling out on the atrocities. A report from FOX News gives firsthand remarks from Americans across the nation as our history with Russia continues to repeat itself, with some accounts saying that the U.S. is not doing enough to "keep freedom alive." As the conflict continues, stay tuned each week with The Weekender to get the latest updates. Read more in AP News. 
THE BIG FIVE
Judge Ketanji Brown Jackson's Public Hearings and Political Virtue Signaling
As questions ranging from her faith, sentencing history, and legal opinions on hot-button issues were thrown her way, Supreme Court nominee Judge Ketanji Brown Jackson (KBJ) offered insight on how she would approach legal issues on the highest court in the nation. Jackson spent some 22 hours being grilled by Senate Judiciary Committee members. While hearings are meant to scrutinize the Judge's legal positions, the spotlight fell on various Senators as questions were utilized for political virtue signaling. Democrat Senator Cory Booker brought Judge Jackson to tears as he emotionally explained why KBJ's nomination brought "joy" and "is an extraordinary testament of what can be accomplished against the odds," a report from NPR said. On the other side of the political aisle, Senator Josh Hawley grilled Judge Jackson on previous sentencing decisions as Senator Ted Cruz spotlighted questions on critical race theory. Senator Hawley, thought to be a GOP contender for the 2024 presidential nomination, accused Judge Jackson of being "soft on crime," according to The Hill. Other Senators, however, took a bipartisan approach. While tensions build among partisans, there was a small light of hope in Democrats and Republicans alike looking to ensure a strong candidate for the Supreme Court. With the public hearings over, the next phase is the confirmation process with the Senate Judiciary Committee slated to vote on her nomination on April 4. Democratic leaders are hoping to confirm Jackson before Easter recess. Read more in Reuters. 
Skyrocketing Costs, Gas Prices, and Inflation… Oh My!
American consumers are repeating history amid skyrocketing gas prices and inflation. According to a recent Edmunds report, buyer interest in hybrid cars, plug-in hybrids, and pure electric vehicles are up 84 percent in March compared to the month prior. However, high gas prices have only shown a slight decrease in the number of miles people drive. Axios reports that while transportation is the nation's largest source of carbon emissions, a carbon tax would have to be "really high" to put a big dent in vehicle miles traveled and, in turn, gasoline consumed. So, is there light at the end of the inflation tunnel? Federal Reserve Chair Jerome Powell thinks so. According to CNBC, the Fed will take "necessary steps" to ensure that inflation will stop jeopardizing an otherwise "strong economic recovery." As the economy works itself out, states across the nation are taking matters into their own hands. Two states—Georgia and Maryland—have suspended gas taxes statewide. California joins the effort as Governor Newsom proposed a $400 gas rebate for vehicle owners to combat rising costs. The pandemic has thrown the market into a cluster of challenges. As always, we have your back as we report on updates in The Weekender. Read more in USA Today. 
Tesla's Newest International Investment
The world's leading electric vehicle maker, Tesla, is expanding its global operations and it's impacting the auto vehicle industry. This week, the company launched its first factory in Europe. Tesla CEO Elon Musk broke out in dance as he cut the ribbon on the company's newest $5.5 million factory. The company's German location is a strategic pick after it has resisted unionization efforts in the U.S. According to Yale Insights, Germany is home to "co-determination" where large companies are run jointly by labor and management, serving together on boards that set company strategy and finances. Workers approve operations in councils and work under mandates that give German workers "far more rights and power" than in the U.S. However, these advancements do not bode well for German automakers. According to NPR, Tesla's market is more than $700 billion, which is more than three times that of Germany's three largest automakers put together. Tesla is also one of 11 companies receiving billions in government subsidies in Germany to support the European Union's goal of a zero-carbon economy by 2050. As the electric automaker continues its strides abroad, it leaves a foggy future for the auto industry in the states and developers in Silicon Valley.  Read more in Yale Insights. 
The Life and Legacy of Former Secretary of State Madeleine Albright
As we face a week of heated discussions around female trailblazers, Madeleine Albright—the nation's first female Secretary of State—has died. She was a child of Czech refugees who fled from Nazi invaders and Communist oppressors before coming to the United States. Embodying the spirit of the American Dream, she was named as the chief delegate to the United Nations in 1993 and eventually appointed as Secretary of State in 1997 under former President Bill Clinton. In the first 207 years of the office's history, there were no women to serve in the post. In the next 32 years, there have been three, starting with Madam Secretary Madeleine Albright. 
CBS News
reported that Condoleezza Rice, former Secretary of State and the second woman to serve in the role, said Albright was "a fearless fighter for freedom on behalf of all humanity." Strategic Elements also honors the life and legacy of Madam Secretary Albright and other women leaders. As we continue to celebrate Women's History Month, we acknowledge and celebrate the strides women leaders have made to create a stronger, more equal world. Read more in
The Washington Post
. 
The Beginnings of Another Flu… the Bird Flu
The COVID-19 pandemic has devastated communities across the globe, but farms across the east coast and the Midwest are facing a new virus, H5N1 — a highly pathogenic avian influenza virus that spreads easily among birds. NBC News reports that the H5N1 virus has been detected in commercial and backyard flocks in at least 17 states, making it one of the worst bird flu outbreaks since 2015. Currently, authorities have said that there are no human cases of H5N1 as it continues to infect tens of millions of chickens used for poultry. The CDC, however, has growing concerns of the mutability of the virus, which can eventually become very severe for humans. The CDC, the U.S. Department of Agriculture, and the impacted states are working to track the spread among birds and conduct additional laboratory work to be ready in case human infections occur. As the situation continues to develop, we thank our nation's farmers for ensuring produce and products make their way to our grocery stores. Read more in NPR. 
DATA POINTS
10 million: The number of displaced Ukrainians because of the Russia-Ukraine conflict, according to the United Nations. The number represents nearly one-quarter of Ukraine's prewar population of 44 million residents.
<1.5 million: The expected number of visitors to Washington D.C. to see its cherry blossoms over the next few weeks. District officials announced that the blossoms took full bloom on Tuesday, March 22, 2022.
27 days: The length of Supreme Court Justice Amy Coney Barrett's Congressional confirmation hearings in 2020. Supreme Court nominee Judge Ketanji Brown Jackson faced 22 hours of public hearings this week, which ended on Thursday.
$110 billion: The annual profit that oil giant and the world's largest oil exporter Saudi Aramco reported in 2021. The company's income jumped 124 percent in 2021 from $49 billion in 2020.
132: The number of passengers on a Boeing 737-800 that crashed in the southern province of Guangxi, China, on March 21, 2022. The plane had 123 passengers and nine crew members on board, according to the Civil Aviation Administration of China.
16th: The United States' ranking by the United Nations Sustainable Development Solutions Network, which listed states according to their happiness levels. Canada ranked 15th and the United Kingdom ranked 17th with Finland ranking first for the fifth year in a row.
30%: The percentage of COVID-19 cases from BA.2, a new Omicron subvariant that is making its way through Europe, China, and the U.S. Chief Medical Advisor Dr. Anthony Fauci expects that cases will soon rise but won't become a "surge."
$36 million: The amount of money that Epic Games, creator of the video game Fortnite, raised for humanitarian efforts in Ukraine within the first 24 hours of the game's newest season being released.
FEATURED TWEET
A mysterious $700 million superyacht rumored to be linked to Vladimir Putin is now reportedly under control of a British crew after the Russian crew disappeared https://t.co/h4LivP9wy2

— Business Insider (@BusinessInsider) March 23, 2022
 Credit: Business Insider on Twitter. 
 To receive a copy of The Weekender every Friday in your inbox, sign up here. Be sure to follow us on Facebook, Twitter, and LinkedIn for more news and industry updates.