Welcome back to a new edition of The Weekender… We have a hot mic situation in the White House, and it isn't the first (or second) time. In the words of a famous Oprah meme, "You get a COVID test, and YOU get a COVID test… EVERYBODY GETS A FREE COVID TEST!" Well… maybe not. Plus—we're diving deeper into international headlines surrounding Holocaust Remembrance Day and the ups and downs of the stock market that have resembled a ride from Cedar Point. Also—U.S. Supreme Court Justice Breyer makes a big announcement. We're taking a closer look into who might take his seat. These topics and more are below in this week's The Weekender. As always, thank you for joining us.
THE BIG FIVE
Son of a… HOT MIC!
U.S. President Joe Biden took a play out of former President Donald Trump's book this week, only this time it was not supposed to be heard. Fox News' Peter Doocy pressed the President on inflation as the Secret Service ushered reporters out of the room. Biden didn't like this line of questioning and called Doocy a "stupid son of a b*tch" under his breath, but close enough to the microphone… that was still on. While this seems out of character for Biden, it is actually not. Biden's political history is full of colorful language. In 2020, for instance, Biden called a factory worker "full of sh**" when the worker asked about guns. Another time, he hugged then-President Barack Obama and whispered, "this is a big f***ing deal." In Biden's defense, he called Doocy following the incident to clear the air, with Doocy even saying it was a "nice conversation." Of course, Biden's not the first Commander in Chief to use strong verbiage. Obama once called Senator Mitt Romney a "bullsh*tter"… and we don't have enough room to recount Trump's potty mouth. Some Americans don't mind the PG-13 language, but if you are offended, you'll find good company in a former White House resident. Former President Richard Nixon said this as a slight to former President Harry Truman: "I'm very proud that President Eisenhower restored dignity and decency and, frankly, good language to the conduct of the presidency of the United States." Ironically, Nixon's own Oval Office swearing heard in the Watergate Tapes was enough to make a sailor blush. Read more in NBC News.
Free COVID-19 tests for all (unless you live here)
Free tests and facemasks are here, with COVID-19 tests arriving at Americans' doorsteps this week per President Biden's plan—but some are experiencing an issue with the delivery. CNN reports Americans who live in an RV or an apartment are experiencing frustration with the sign-up portion of the website that too often flashes error messages. The Biden administration's program aims to help offset the costs of at-home tests, where families can buy at stores like Walmart or Walgreens (if they can find them). With another stimulus check likely off the table, providing these free tests aims to lower costs for the household… if it works. Read more in USA Today.
Remembering lives lost on Holocaust Remembrance Day
This week marked Holocaust Remembrance Day, the anniversary of the liberation of the Auschwitz-Birkenau concentration camp near Krakow, Poland. The day is one of the few holidays observed internationally; however, one country uses the day to remember any persecuted minority group. Finland has adopted this day as "Remembrance Day for the Victims of Persecutions", though it does not mention the Holocaust, much to the dismay of Holocaust survivors and the Jewish community. The country recently made headlines for a city council meeting that proposed the day be in remembrance of persecuted LGBTQ, Sinti, and Sami communities—with no nod to the Jewish community. Regardless of the issues—it is important to take a moment this weekend to remember the millions of lives lost during the Holocaust in hopes of never repeating history's mistake. Read more in Forbes. 

The stock market's wild ride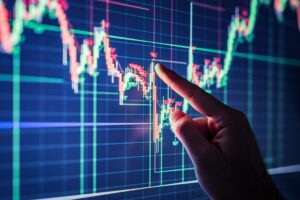 The stock market hit a low this week that hasn't been seen since the nationwide lockdowns of 2020… then, all in the same week, it made the largest comeback since 2008. Experts aren't saying what exactly caused the crash or the reversal, but a major factor is definitely the Federal Reserve's interest rate announcement. Fed Chair Powell announced that in March interest rates will increase. Why? Because the national economy is no longer in an emergency following the COVID-19 pandemic—an ironic statement as infection rates rise to new highs. While Americans hold to hope that this week was a market anomaly, experts say the stock's wild ride is just the beginning. Read more in the Wall Street Journal.

A major change in the nation's highest Court
After 28 years on the highest court's bench, U.S. Supreme Court Justice Stephen Breyer announces his retirement. The unexpected news, which appeared in the form of a tweet, comes at a pivotal time when Democrats—and the White House—need a win. After failing to keep promises of reversing voter suppressions laws and eliminating the filibuster, the Biden administration's approval ratings among Black Americans are at an all-time low. It didn't take long for the White House to quickly confirm that they would keep their promise of nominating a Black woman to the Supreme Court. Rumors are running abundant, and there are already talks of who will be nominated for the seat. In the running so far is California Supreme Court Justice Leondra Kruger and Washington D.C. Judge Ketanji Brown Jackson. Details are still up in the air, but one thing is sure: the nomination will be significant news in the upcoming weeks, and we will be bringing you the latest in The Weekender and on our website, strategicelements.com. Read more in Reuters. 
INTERNATIONAL SPOTLIGHT
Russia, Ukraine, and U.S. tensions heat up
The conflict happening between Russia and Ukraine has more layers than a nesting doll, and everyone is paying close attention (even Britney Spears, who left a cryptic message about the conflict in her latest Instagram post). Ukraine soldiers are playing a guessing game of when the pin will drop, and tensions are high—in the country and around the world. The Biden administration's tactic? Diplomatic intervention and a threat for "economic consequences like none he's ever seen." Will this threat be taken seriously, and can the United States effectively intervene in the conflict? Only time will tell. In the meantime, the U.S. has put its armed forces on "heightened preparedness." The Biden administration has also suggested Americans in Ukraine should consider leaving, triggering feelings of a Cold-War repeat with little to no information on what will happen next. Read more in The Economist. 

DATA POINTS
2 centimeters: The depth of ash that covered the runway at Tonga's Fua'amotu International Airport, rendering it unusable after a massive underwater volcano eruption.
90 percent: The amount that GameStop's stock shot up after company's stock became the first of "meme stock media" a year ago this week.
2,100: The 7-day average of U.S. COVID-19 deaths this week, which is the highest number on record in nearly a year.
$25 million: The payment amount that Spotify offered Prince Harry and Meghan Markle for a podcast on the platform in 2021. The company hired an in-house producer after the couple did not create a single episode last year.
$7 billion: The amount of money that automotive company General Motors (GM) is investing for electric vehicle and battery production in Michigan, the largest single investment in the company's 114-year history.
1,010: The pieces of digital ceramic that the successors of artist Pablo Picasso are selling. The never-before-seen art piece is the newest addition to cryptocurrency's influence on the art industry.
44: The number of days from Friday, January 28, 2022, until Daylight Saving Time on March 13, 2022, generating longer days and marking the unofficial start of spring.
2,700 euros: The amount of money one German inmate owes after "throwing potato mash" at another inmate following a disagreement. The equivalency in U.S. currency is $3,045.
35: The years U.S. House Majority Leader Nancy Pelosi has served in Congress. The Congresswoman announced this week that she will run for another term in 2022.
FEATURED TWEET
January 26, 2022
 Credit: Yidwithsign on Twitter
To receive a copy of The Weekender every Friday in your inbox, sign up here. Be sure to follow us on Facebook, Twitter, and LinkedIn for more news and industry updates.