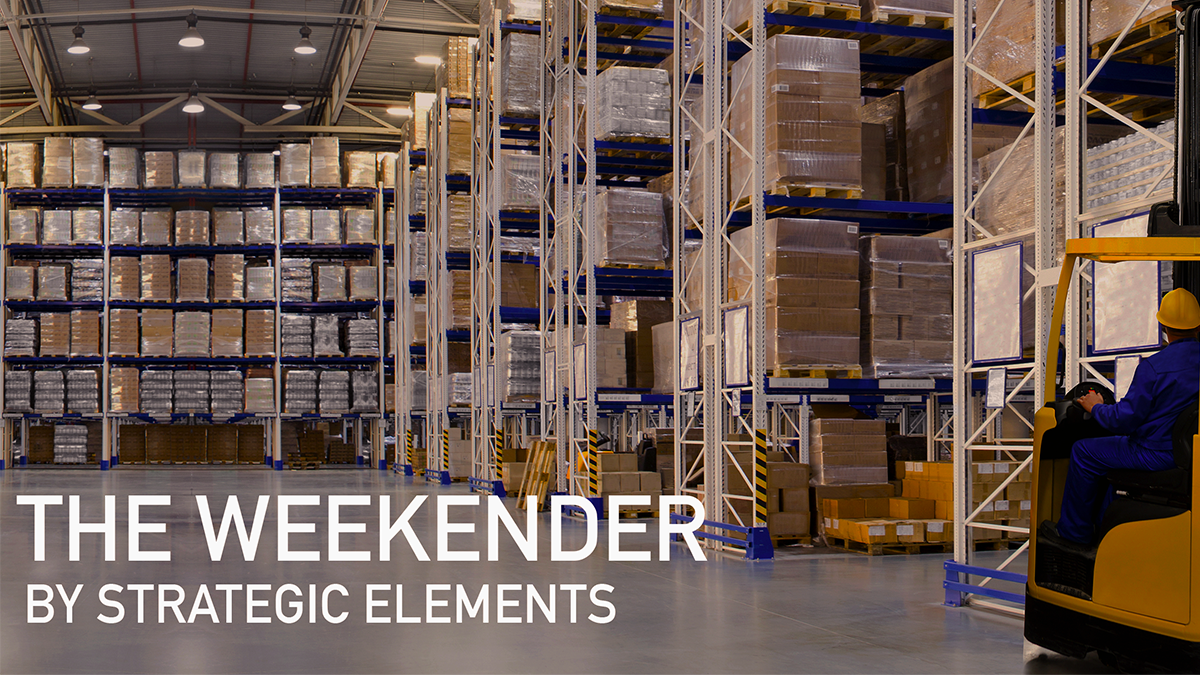 THE WEEKENDER
Big reads and big ideas shaping public policy, consumer trends, and cultural innovation.
December 18, 2020
Curation and commentary from the Team @ Strategic Elements
IT'S THE LAST WEEKENDER OF 2020….
Today's edition marks the last Weekender of the year. Saying that 2020 was a tough year is likely a massive understatement, but this year also gave birth to our newsletter – so there are silver linings to celebrate. We appreciate every moment you spend with us, whether it's a full read through or a quick look, we are fortunate to bring you our insights as we navigate today's world. We hope you will stay with us and bring some friends along in 2021. We're excited about what's in store.
If you know someone who should be reading the Weekender – they can subscribe right here.
Fun First: Learn "How to Internet"
The internet can be both a dreadful and a wonderful place. At the end of 2020, we're leaning on the latter. From the archives of the internet this week, get a glimpse into the first days of the web – and learn "how to internet."
THE BIG FIVE
Biden's make-or-break first six months and how business will react in 2021. We've reached the climax of 2020 (finally), and can begin to paint a real picture of what a new year will look like. For the business world, much of this attention will turn to the White House. While most new presidents like to boil down their actions for the first 100 days, President-elect Biden faces a make-or-break first six months in the time that defines the tone of a presidency. This is also typically the time where presidents enact their big-ticket legislative wins before elections and other distractions dominate the Hill. The difference this time: Biden doesn't have the wriggle room of the last two presidents, and there's a certain something called the pandemic. For Biden, this is the heart of the challenge and where he will either emerge as a dealmaker or as a president who works with executive actions to appease his party. Whatever the result, it is not business as usual – they simply want to find a center of gravity on a stimulus package that changes the trajectory of the economic recovery. The irony of 2021 is that among a complex world, the year's first priority for business will actually be very cut and dry. Axios
The mass exodus from Silicon Valley and what it means for the economy. You may have heard that some very wealthy names are taking part in a mass exodus from the epicenter of American innovation. Several high-profile executives including Elon Musk are moving to places like Texas. But it's not just individuals: Hewlett Packard and Oracle are taking the plunge too. What is exactly causing the Silicon Valley rush to leave? Is it simply COVID-19 restrictions? State and local mismanagement? Pricey real estate? Don't think for a second that there's not a good publicity opportunity out of a relocation announcement – but the full truth is that relocation happens and it's just much more amplified now. As business leaders have alluded to, the reasons for moving can be a combination of all of those factors – but it's likely because the pandemic has opened up the clear choice for them to do so. CNN Business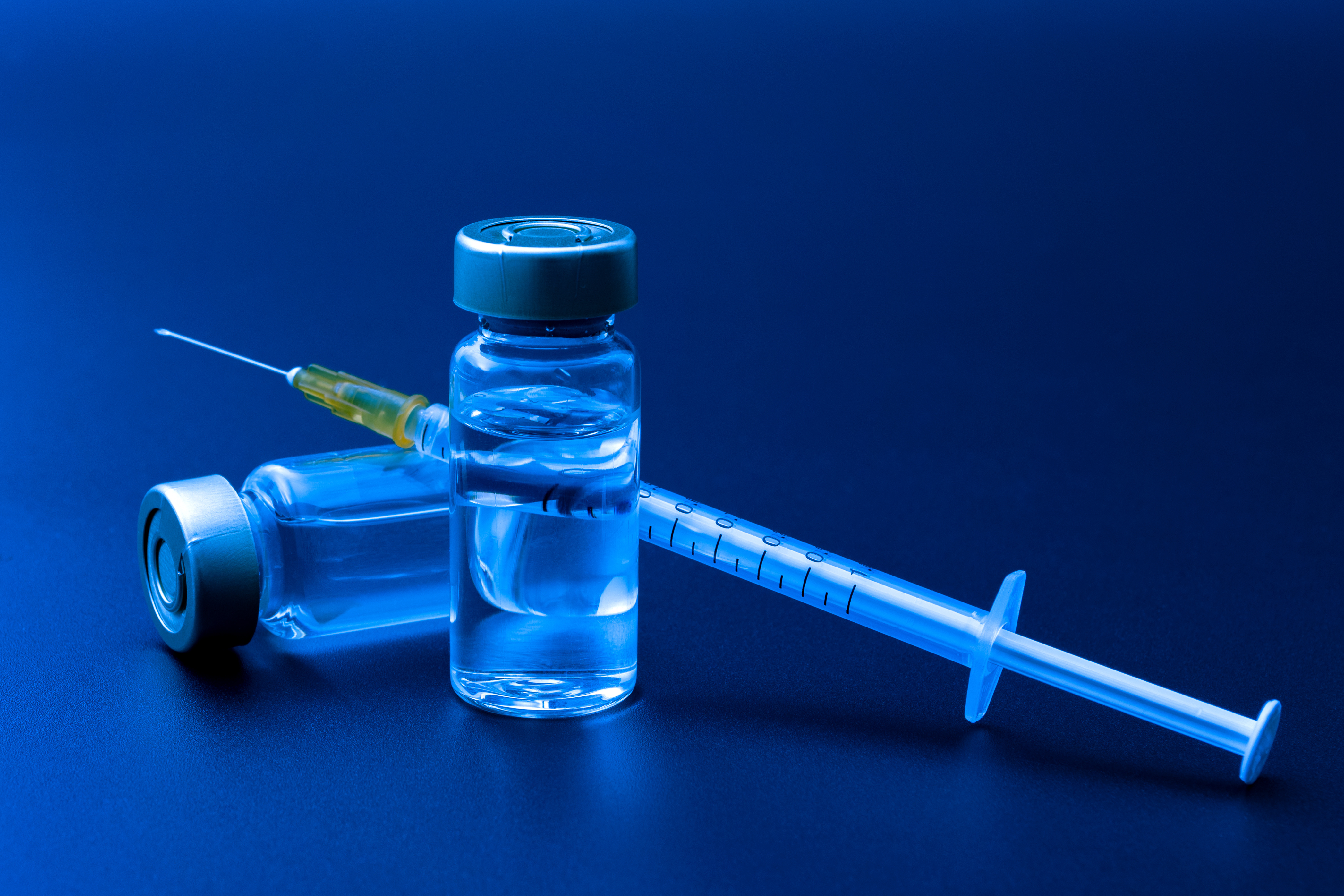 The vaccine distribution: lessons from the top of the supply chain. The vaccine is here – and now it's a question about how quickly it can get to you. Given how the pandemic started, it is nothing short of a miracle that we discovered a virus and have a vaccine in the same calendar year. Now, all eyes are on the federal government as it begins the rollout of Pfizer's vaccine and Modern's likely soon after. Demand will outpace supply for quite some time, but that doesn't mean there aren't lessons to be applied on how to do distribution right. Supply chain experts have been looking at Amazon and Walmart – whose experience is clearly unmatched – to focus on reducing waste and minimize shortages. For example, knowing that we will have steady demand is a given. But forecasting demand at specific sites on a weekly or daily basis is at another difficultly entirely, and mismatches cause waste. Implementing practices such as regional fulfillment centers and cross-docking could mean more accurate and efficient matching for demand. Getting that match means all the world right now. Fast Company
The war on tracking you, explained. The wars between the top tech companies have now amplified, not over your money per se – but your data. It's everything in today's economy and it's what keeps companies like Facebook in the position that they are. The push and pull in the tech world between utilizing millions of users' data and the principles of privacy have met new tension. Facebook and Apple are now taking out ads and PR tactics on each other over a software dispute. The reason? Apple is adding a transparency feature to its devices to show how companies like Facebook are tracking your data. Facebook has countered to say this is all a ploy to get users into Apple's subscription-based economy. Between the lines, this is about one company whose future is fundamentally dependent on selling outside advisements, while the other is dependent on you buying products in its ecosystem. In the middle of this all is your browsing history. NBC News
How a 3D print job could be the answer to the Moon. NASA's plans to go back to the Moon might sound a little too nostalgic for its own good, but this time they are planning to stay – and then some. NASA's timeline is getting back to the Moon in 2024, and establishing a permanent base by 2030. The challenge is no doubt daunting, with the biggest hurdle being how to haul all of the materials needed to actually build the base itself. The solution might actually be simpler than you think, thanks to combining what we know from the first missions with sci-fi like tech. A Texas startup now says in concept it can 3D print the lunar base we need from moon dust. It turns out we discovered back on our first trips that moon dust was extremely clingy and could be the perfect material for new technology. The entire process is critical – successfully establishing a base means more science and a gateway to missions that extend much further. By combining old knowledge with new technology, we may be able to truly shoot for the moon. CNN
DATA POINTS
26: The number of launches that SpaceX will have done this year, if it can get clearance to send up a spy satellite today.
39: The number of companies in tech and other industries who have relocated to Austin this year, according to the Austin Chamber of Commerce.
2.9 million: The doses of the COVID-19 vaccine that Pfizer says it has shipped this week, with millions more awaiting instructions from the U.S. government.
81,000: The number of Americans who died from drug overdoses from June 2019 to May 2020, the highest 12-month stretch in U.S. history.
$70 billion: What Facebook made in advertising last year, which is almost its sole revenue source.
$900 billion: The price tag of the stimulus package that is close to finding a deal, which includes a mix of direct payments, unemployment benefits, and aid for small businesses.
$3.8 trillion: What the U.S. spent on health care last year, according to federal data. That's 18% of the entire economy.
45 out of 50: Since March, the majority of America's 50 largest publicly traded companies have turned a profit.
8 million: The number of Americans who have fallen into poverty since March.
TWEET
The evolution of lithium-ion battery pack prices:
2010: $1,191/kWh
2011: $924
2012: $726
2013: $668
2014: $592
2015: $384
2016: $295
2017: $221
2018: $181
2019: $157
2020: $137 (all real 2020$)
Annually from @BloombergNEF; analysis by @JamesTFrith https://about.bnef.com/blog/battery-pack-prices-cited-below-100-kwh-for-the-first-time-in-2020-while-market-average-sits-at-137-kwh/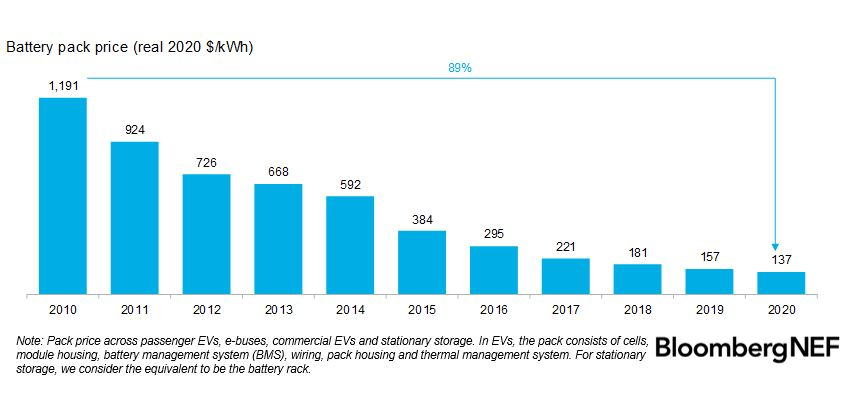 Source: @BloombergNEF
@NatBullard
Nat Bullard is Chief Content Officer for BloombergNEF.
—
Have a great weekend. See you in 2021!
Strategic Elements