Welcome back to a new edition of The Weekender…where students and parents are dealing with ongoing back-to-school issues, which now include supply chain disruptions, Monkeypox, inflation and, of course, COVID-19. Meanwhile, the Inflation Reduction Act is now law, and we're giving you the good, the bad, and the…well, you decide. We dive into how the Act will impact families across the U.S. Plus, Apple has started laying off employees while adding advertisements. Catch these stories and more in this week's edition of The Weekender. We're glad you could join us.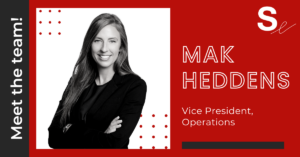 Vice President of Operations, Mak Heddens, is a traveler extraordinaire and an event planning expert. Mak discusses all things, from working in grassroots advocacy to her favorite comfort foods, in our newest edition of Getting Personal. Learn more about Mak here.
THE BIG FIVE
Stay in Your Trade Lane 
While U. S. retailers are gearing up for a busy holiday season, imported containers are being stuck and queued on cargo ships outside of ports for weeks. Officials report 34,000 containers waiting in Los Angeles, which is about 23,000 more containers than in pre-COVID days. Port officials say the container imbalance since January 2021 is 210,000 containers, which are accumulating in and around the ports' complexes. These imbalances impact how goods get to market and how many retailers store their increased inventory for the holiday season. Logistics companies are monitoring and considering expensive air freight as an alternative to ensure holiday delivery. However, airlines also face shortages and cancellations, as we've seen in the past couple of weeks. Rows of empty containers near the ports are taking up important land capacity and restricting trade fluidity. Another concern is the possible port strike that may happen with workers in Germany, which would worsen the already stressed global situation, disrupting the supply chain even more. Meanwhile, high temperatures in China are forcing some manufacturers to shut down, causing power restrictions and affecting heavy-industry enterprises, such as those that produce aluminum, lithium and copper. So far, the shutdowns have impacted solar cell companies, a factory where Apple watches and computers are manufactured, and another that supplies lithium batteries for Tesla. The bottom line: holiday shopping may look (and financially feel) a little different this year. Our advice: encourage Christmas lists with lots of options and, of course, start early! Read more in CNBC.
Counting Down the Concerns of Back-to-School 
Speaking of shopping… it's the most wonderful time of the year for parents as students return to school. Well, maybe not completely wonderful. To no one's surprise, students' and parents' back-to-school concerns continue to pile on top of COVID-19, with the spread of Monkeypox, increase in mental health challenges, and rising consumer prices. As Americans face high inflation and supply chain disruptions, back-to-school shoppers are expected to spend a record amount this year, with Pennsylvania residents predicted to spend $814 per child on clothing and supplies, which is 23% more than the national average ($661 per child). Pricey back-to-school spending is just the tip of the iceberg, with Monkeypox becoming the new virus to guard against. However, public health experts assure Americans that the risk of Monkeypox remains low for the general population. While it may be a concern, it is not as easily transmissible as COVID-19. Parents hope students' mental health and safety will continue to be a priority and look to the upcoming distribution of the new omicron-subvariant vaccine. Read more in The Los Angeles Times.
Taking A Look Inside the IRA 
Congressional Democrats celebrate a win this week after U.S. President Joe Biden signed the Inflation Reduction Act (IRA) into law. The $470 billion plan says it will make healthcare more affordable, reduce energy costs and lower the deficit. Advocates say it's one of the biggest climate-related bills in history. To help pay for the plan, it gives the Internal Revenue Service (IRS) $80 billion to hire agents and auditors to "beef up" enforcement, which the Biden administration says will bring in and provide more funding, according to POLITICO. Meanwhile, Congressional Republicans argue that the IRA was too costly and government overreach, as zero Republicans in the House of Representatives and the Senate voted for the bill. Despite some major wins for his agenda during the first half of his presidency, voters do not appear to be rewarding President Biden, as his approval ratings are at a record-low. Read more in The New York Times.
Companies are Paying Up (But Not in the Way You Think)  
Another week, another data breach. Ransomware attacks are growing trickier with hackers making it more dangerous for victims that refuse to pay. Ransomware group Black Cat is undertaking an "aggressive campaign" against U.S. and European companies and threatening to make the businesses' private data publicly searchable and accessible to anyone. While companies often pay up or let hackers release documents, Forbes reports that negotiating is an option. Regardless, recovery from a cyberattack can be devastating. According to SecurityWeek, 42% of companies who experienced a cyberattack said the payment resulted in the complete restoration of all systems and data, while nearly 40% had to lay off staff as a consequence. What are the odds of it happening to your business? Ransomware attacks occur every 11 seconds, and the number rises daily. To prevent the dangers (and headaches) of breached cybersecurity, the U.S. government recommends that internet users enable strong spam filters to prevent phishing emails, restrict users' permissions on software applications, and apply "privileges" in all systems and services sparingly and to trusted sources. Read more in Forbes.
Triple A: Apple, Apps, and Ads 
Sad news for Apple fans—those ad-free Apple apps will soon be loaded with ads. First-party apps like Stocks, News, Podcasts, and Maps will soon be riddled with advertisements—so much so that Apple is projecting to bring in an extra 20% to its existing $4 billion ad portfolio. The announcement came as Apple laid off about 100 recruiter contract employees who were working to hire new employees for Apple. The layoffs will affect more than the recruiters; they will also impact recruiting new employees for the tech giant. Apple is not the only company pressing the breaks on hiring—it joins the likes of Meta, Amazon and Tesla, who have also slowed down hiring in some way. Read more in Bloomberg.
INTERNATIONAL SPOTLIGHT
(Not Quite As Much Being) Made in China
Once thought of as the world's unstoppable economic growth giant, China's economy is in the midst of rapid deceleration. While the size of the economy is still behind the United States (a little), China has been responsible for a sizeable portion of global gross domestic product growth for the greater part of the last two decades. However, the growth is plateauing in several ways: the industrial sector, housing market, and retail sales all missed their expected growth percentages in the last quarter. Due to its heavy ties to global GDP, it also translates to the global economy missing its mark. China has faced this kind of slowdown in the past—but the government was quick to react. Historically, during a slowdown, China has cut interest rates, prioritized infrastructure projects and encouraged domestic spending. However, this time, the Chinese Communist Party does not seem to be reacting as fast—which may lead to a more significant decline in the nation's economy and may show that it is harder for Beijing to control. Read more in Axios.
DATA POINTS
28.94%

: The percentage of votes that U.S. Congresswoman Liz Cheney received in Wyoming's At-Large Congressional Republican Primary. Congresswoman Cheney was ousted by Harriet Hagman, who received 66.33% of the vote, after taking a high-profile role as a top Trump critic on the January 6th Committee.  
$350 million:

The amount of money that venture capital firm Andreessen Horowitz is investing in a new company focusing on the rental apartment market. This investment is the largest individual check Andreessen Horowitz has ever written in a round of funding to a company. The new company's founder? WeWork's Adam Neumann.
$6,155.88:

The amount that Saudi Aramco, a state-owned Saudi oil giant, reportedly profited per second in the second quarter due to surging oil prices. A total of $48.4 billion for the quarter. Saudi Arabia's economy is projected to grow more than 7.6% this year—the most of any country. 
1.85 million:

The number of arrests made at the southern border in the government's fiscal year so far. With about two months left in the agency's fiscal year, arrests are expected to hit two million for the first time.
23%:

The rise in costs of rental listings in the second quarter of this year, compared to the same period in 2019. Experts say that skyrocketing rent prices are a factor in increasing inflation rates. 
30 million:

The number of U.S. adults with hearing problems. The U.S. Food and Drug Administration recently announced that hearing aids, which are typically not covered by insurance, will be sold over the counte
24 million:

The number of Afghans in need of humanitarian assistance due to severe drought and other factors, pushing many families to resort to desperate measures such as child labor and early marriage.

30,000:

The number of times parents have changed their baby's name in the past five years, according to the U.S. Social Security Administration (SSA). The changes include both spelling corrections and outright reversals. 
FEATURED TWEET
While NASA's first moon mission in 50 years is uncrewed, that doesn't mean that the Artemis I Orion capsule will be empty.

Inside it will be three mannequins, toys and even an Amazon Alexa, along with historic and educational items. https://t.co/bJjy8TKvGd

— CNN (@CNN) August 15, 2022