Welcome back to a new edition of The Weekender… where both U.S. President Joe Biden and Vice President Kamala Harris are preparing for impactful conversations with China and Poland amid the continuing crisis in Ukraine. Also—we dive into the Fed's economic balancing act as interest rates are on the rise for the first time since 2018. Plus—a new Omicron subvariant is making its way through Europe and causing shutdowns in China. What's in the future for the U.S.? Learn more about these stories and more in this week's edition of The Weekender. Thanks for joining us.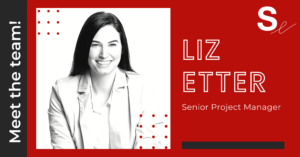 P.S. Get to know resident plant expert and SCRUM Master Elizabeth (Liz) Etter in our latest edition of "Getting Personal," an inside look into the SE team.
Get The Weekender sent right to your inbox. Sign up for our weekly newsletter here.
INTERNATIONAL SPOTLIGHT
A Full House of Foreign Relations 
The tensions in Ukraine are continuing to escalate. According to USA Today, Russian forces continue to tear through Ukraine, as airstrikes ripped apart a theater in Mariupol, which had served as a makeshift shelter for hundreds of people. As Russian forces continue to struggle, President Vladimir Zelensky addressed the ongoing conflict to Congress, calling the situation "a terror that Europe has not seen for 80 years," an annotated transcript from his address reads.  In response, Russia is facing the largest global sanctioning in history as corporations and banks have continued to pull business from the nation. How does Russia continue to press forward despite the challenges? U.S. officials have a working theory: China. U.S. adviser Jake Sullivan and Senior Chinese Foreign Policy Adviser Yang Jiechi met in Rome, Italy, amid concerns that China is using the war in Ukraine to advance its competition with the U.S., a report from PBS said. While a Russian spokesperson for President Vladimir Putin was adamant that Russia "has its own potential to continue the operation", the U.S. has a growing concern that China may be supporting Russia's actions in Ukraine. The Hill reports that U.S. President Joe Biden is set to speak with Chinese President Xi Jinping on Friday, March 18. The discussions will address the competitive relationship between the two nations and the ongoing conflict in Russia. While the outcomes of these talks are unclear, be sure to check in to The Weekender every week to get the latest on international affairs and more. Read more in The Economist. 

THE BIG FIVE
U.S. Foreign Affairs and Kamala Harris' Potential Promotion
U.S. Vice President Kamala Harris took a trip to Poland this week, amid the conflict in Ukraine. Poland played a large role in Ukraine's humanitarian efforts, taking in about 1.8 million refugees—approximately the population of Warsaw—since the start of the conflict. The nation has indicated increased interest in providing more assistance to Ukraine but is looking to the U.S. for support. Despite the ongoing conflict, Vice President Harris says she isn't ready to make a deal with Poland. Her decision impacts more than the outcome of the crisis in eastern Europe, however. Vice President Harris has been trying to build a reputation as a serious foreign policy player, POLITICO reports. While it is normal for a Vice President to include themselves in foreign relations, Harris' lack of diplomatic experience created a slew of missteps in her first few visits abroad. Despite the unforced errors, Harris hopes to make a public relations comeback. But what does this mean? A Wall Street Journal poll found that 52 percent of Americans do not believe that President Joe Biden will seek re-election in 2024. These sneaking suspicions lead experts to think that the Democratic Party may see Vice President Harris as the frontrunner. The outcome of these talks with foreign allies in Europe already has large expectations, but for Vice President Harris, these talks can mean the difference between the Presidency or a major career shift. Read more in POLITICO. 
Interest Rates, Inflation, and Where the Economy Stands
Supply chain issues, inflation, and soaring costs—the past year has dealt an uncertain hand for the global economy. For the first time since 2018, the Fed raised interest rates by 25 basis points. Higher interest rates mean strong economic growth, right? Not quite. According to CNBC, the Fed forecasts more rate hikes and an inflation forecast above 4% this year. While the U.S. economy has returned to pre-pandemic growth, the Fed is uncertain amid global turbulence. Reuters reports that Fed Chair Jerome Powell said he felt the adjustment was something that "we can achieve with what we call a soft landing, which is getting inflation back under control without a recession." The Fed continues to assess how the U.S. economy can move forward even with a strain on the global supply chain during the war in Europe. However, many experts continue to be optimistic about the strength of the American economy and resilience among consumers. Read more in The New York Times. 
Fossil Fuel Country's Newest Mineral to Extract: Crypto
The United States has quickly become a cryptocurrency hub, as the so-far unregulated tender continues to dominate business. Oil champion Texas and coal country Kentucky are racing to become a global crypto-mining capital. According to Forbes, 2021 saw the highest miner revenues to date. Last year, bitcoin miners made $16.7 billion in revenue, more than the combined takings of the previous three years. Another popular cryptocurrency, Ethereum (or Ether), outperformed Bitcoin and raked in $17 billion in revenue from mining alone in 2021, a report from News BTC notes. Other popular cryptocurrencies, including Tether and Solana, use more of a centralized and regulated approach to their tender; therefore, they do not utilize mining as a part of their platform. Despite motions from both Russia and China to forbid the use of cryptocurrency, the industry is strong. One crypto mining company, Bit Digital, has deployed 39.2% of its total crypto mining rigs in North America a few months after completely moving out from China, according to CoinDesk. Experts in the industry expect growth to quickly expand this year. Whether you are a crypto fan or not, the currency's influence is only growing. Read more in Forbes. 
Here We Go Again: The Season's Latest COVID Trends
As Americans take their masks off and governors across the country end COVID-19 restrictions, Europe and China are seeing a spike in cases thanks to a new Omicron subvariant known as BA.2. Public health experts are expecting the variant to begin its spread across the U.S. in the coming weeks, according to Business Insider. The variant is being recognized as Omicron's "more contagious cousin," making up almost a quarter of all COVID-19 cases in the U.S. Experts have also said that relaxing COVID-19 restrictions, such as mask-wearing and lower immunity levels in the population, has led to a spike in cases combined with the protection of the vaccines wearing off. In China, a nation with a COVID-zero strategy, tens of millions of people are in lockdown as the country went from a few dozen cases in February to more than 5,100 cases this week—the highest figure since the early 2020 outbreak in Wuhan, CNN reports. With the rise in cases abroad, here at home, the Biden administration and Congress are debating the fate of more than $15 billion in pandemic funds, according to POLITICO. Congressional Republicans are pushing to scale back on testing and protections for uninsured people while House Democrats are struggling to create a plan that will satisfy enough legislators to pass in the Senate. These challenges continue to press on as many Americans want to move on from the pandemic. Will the increase in cases abroad change the path in Washington? Or the views of the American people? The next few weeks should be a good indicator. Read more in The Washington Post. 
A New Meaning to Factory Farms
Vertical farming, known for high yields of leafy greens such as lettuce and herbs, is taking on a new challenge—diversifying to other fruits and vegetables. One of the nation's largest vertical farming companies, Bowery, is looking to sell freshly grown strawberries year-round. According to CNBC, Investors are pouring money into new agriculture technology at a time when food prices, labor, and overall availability are creating hurdles for the traditional agricultural system. In fact, large retailers such as Walmart are taking note. Last month, Walmart invested in Plenty—a vertical farming company with the intent to purchase the company's leafy greens to sell on their shelves. Another report from CNBC said that Walmart did not disclose how much the investment was, but it was part of a $400 million round of funding for the company. While vertical farming is applauded for its strides in sustainability, especially to communities with limited access to fresh fruits and vegetables, agricultural production from local farms skip many of the carbon-heavy steps in the supply chain, such as transportation. A report from Stanford Magazine revealed that "locally sourced products generate 5 to 17 times less carbon dioxide (CO2) than those sourced with far-flung ingredients." Local food purchases also create more transparency in the traceability of crops and improve overall food safety. Whether our food comes from a warehouse or from local farms, we are grateful for those who help to grow and transport the food we share with our loved ones—the war in Ukraine and its impact on food supply illustrate for all of us how fragile our food production and distribution can be. Read more in CNBC.
DATA POINTS
$917.8 million: The amount of revenue the NCAA made from March Madness in 2019. This year's tournament started on March 13 and will continue until April 4.
27,000:  The number of ballots flagged as rejected from Texas' state primary on March 1. The primary was the first election since Texas enacted new voting restrictions in the state.
$518,628: The amount of money that Tampa Bay Buccaneers Quarterback Tom Brady's "last NFL touchdown ball" was sold for last weekend. A day later, Brady announced that he will be returning to the NFL for another season.
5,000: The number of words in a letter sent to Russian President Vladimir Putin from Chinese President Xi Jinping saying that there are "no limits" to their friendship. The letter comes amid concerns from the U.S. about China's involvement in the Russia-Ukraine conflict.
45 million: The estimated number of Americans who plan to bet on this year's March Madness college basketball championship. A recent report from the American Gaming Association asserts that more than 17% of American adults will place at least one bet on the tournament.
10 minutes: The duration of Amazon CEO Jeff Bezos' Blue Origin space flight. Saturday Night Live star Pete Davidson recently announced he will be the third celebrity to fly on the CEO's spacecraft.
35: The death toll after a Russian missile strike in Western Ukraine. The strike took place less than 10 miles from the western border of Poland—a NATO member. Experts believe the attack's proximity to a NATO nation will cause a "severe escalation" of tensions between the organization and Russia.
17.5 million: The population of Shenzhen, China. The Chinese government announced that all residents will undergo three rounds of COVID-19 tests after 60 new cases were discovered causing the city's business district and bus routes to be shut down.
FEATURED TWEET
In the face of Russia's indiscriminate attack, Ukrainians' care for their animals is an act of defiance. https://t.co/sjj285GZNI

— The New Statesman (@NewStatesman) March 15, 2022
 Credit: The New Statesman on Twitter. 
 To receive a copy of The Weekender every Friday in your inbox, sign up here. Be sure to follow us on Facebook, Twitter, and LinkedIn for more news and industry updates.