Welcome back to a new edition of The Weekender… The Russian Ukrainian war rages on, and there is reason to believe it is not going to end any time soon. Celebrities can use their powers for good or bad, and they have done both this week. Then, the latest scam to watch out for and why cannabis stocks are the go-to this week. This and more are below! Thank you for starting your weekend right here with the Strategic Elements team.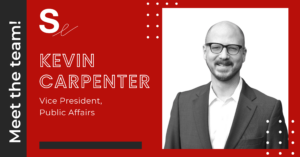 P.S. Get to know Washington D.C. insider and our Vice President of Public Affairs, Kevin Carpenter, in our latest edition of "Getting Personal," an inside look into the Strategic Elements team.
THE BIG FIVE
Celebrities take Center Stage, Shedding Light on Issues
Celebrities are again dipping into political issues with varying outcomes. Topping the week was Will Smith storming the stage to slap Chris Rock for a joke about Smith's wife's struggles with alopecia during this year's Oscars. The slap broke the internet with people defending Rock and others defending Smith. No matter what side you are on, the alopecia community is now front and center (the disease was relatively known and is now unavoidable online and in the news), and Rock's standup comedy tour sales have sky-rocketed. On another hot topic, actress Mila Kunis is using her platform and Ukrainian roots to shine a light on the war, raising over $35 million for the cause earlier this month. Whether for good or not so good, celebrities have a platform, and they are causing waves. Read more in Philanthropy Today.
Texting
Scam Alerts
from…
You?
Cyberattacks are getting sneakier by the minute. The latest scam tricks customers by using their own number to send a text message to the victim—complicated, we know. The text reads something along the lines of "thanks for paying your bill, here's a gift" with a link, which the hackers use to bug the phone once opened. This is not the only scam on the rise— predators are now also using the Ukrainian-Russian war as a ploy to get money. People have been reporting that scammers claim to need money to get out of the war zone, and try to build a relationship with the victim—even sending fake photos— saying they love them and want to be with them immediately. However, after sending money overseas, the fraudster is never heard from again. It's like the classic romance scam but pulling on the heartstrings even more with the current situation overseas. Remember to always stay alert because by the time we find out about one scam; the attackers have already moved on to the next. Read more in VICE. 
O
il Reserve
s Released
in Hopes of Lowering Gas Prices 
President Biden announced that the United States will release massive oil reserves to combat rising gas prices. This is the largest release in history—estimating it will put one million barrels on the market per day for the next six months (the U.S. uses about 18 million barrels of oil each day). This amounts to roughly 180 million barrels of oil by the time the six months are over. The administration hopes this will be enough oil to lower gasoline prices until domestic production increases at the end of the year. While the numbers are staggering, experts say this is only about a third of what the nation normally receives from Russia (the U.S. currently produces about 3.3 million barrels a day less than we consume). As inflation increases and gas prices soar, Americans clamor for relief. The immediate effects of the release are not clear, but some experts call this a band-aid for a more significant issue – not enough supply. Look for the issue(s) – gas prices and energy policy – to be major issues in the midterm elections this fall. Read more in The Washington Post. 
Cannabis is Coming  
The
U.S.
House of Representatives
voted Friday and approved
a bill
that would decriminalize cannabis on the federal level, with
220 votes in favor and 204 opposed
.
The Marijuana Opportunity Reinvestment and Expungement Act (MORE Act) aims to decriminalize cannabis at the federal level while also creating provisions for banking and consumer goods surrounding marijuana.
A version
of t
he
bill
faced a vote
in
2020
and now experts say, it faces an uncertain future in the Senates, though, Democrats control
both
houses of Congress
.
Cannabis stock prices are rising as the vote draws closer
,
and the industry is set to see a boost. The legal marijuana industry already has
425,000 full-time jobs
in the states in which it is allowed and having it federally legalized will
surely
bring that to a new high
(sorry, we had to, didn't we?)
.
Read more in
The Verge
.
March Madness hits a little different this year, with each game Duke wins marks another game the beloved Coach K will be able to command. Duke's head coach, Mike Krzyzewski, announced that this would be his last season with the Blue Devils, hoping to clinch his sixth National Championship before retiring. The record holder for the most March Madness games coached will live to see another game after a heart-pounding win over Texas Tech this week put Duke in the Final Four – breaking K's tie with UCLA's John Wooden to become the coach with the most appearances in the hallowed event. In a rare move, the team played a zone defense rather than their normal man-to-man– and it paid off with a five point win over the Red Raiders. The end is not yet here for Coach K, and we look forward to watching Duke, Villanova, North Carolina and Kansas compete for the championship. . Read more in Sports Illustrated.  
INTERNATIONAL SPOTLIGHT
A Russian Smokescreen
The attacks rage on as we enter the sixth week of the Russian Ukrainian war. Peace talks continued this week, but experts say the talks are nothing but a smokescreen. Russia promised to withdraw troops from the Ukrainian capital of Kyiv, but many experts think this is a ploy to buy Russian forces time to regroup and reattack— with even more force. Economic sanctions are hurting Russia but not stopping them from continuing the invasion. While the Russian economy has shrunk by ten percent, the value of its currency—the Ruble—has nearly recovered in value since Russia was hit with sanctions weeks ago. This fast rebound in value puts pressure on President Biden and the rest of NATO to hit Russia even harder with sanctions. Russian polling also shows approval rates for President Vladimir Putin have increased by more than ten points since the start of the year. This adds more fuel to the Putin fire, forecasting that the war is far from over. Read more in the New York Times.  
4:

The number of U.S. states that have created plans to suspend their gas tax amid skyrocketing fuel costs. The average

gas

price in the US, $4.24 a gallon, is about 48% higher than it was last year.  

 

67:

The number of active wildfires in Texas this week. Texas Governor Greg Abbott declared a state of disaster this week after a fire in Medina County, Texas

,

destroyed more than 1,000 acres. 

 

$5.7 trillion:

The annual investment in wind, solar and other forms of renewable energy that are needed to "ensure that global warming doesn't pass dangerous thresholds", according to a report released this week from the International Renewable Energy Agency. 

76.1%:

The percentage of American adults with at least one dose of the COVID-19 vaccine. This week, the FDA authorized a second booster shot for people aged 50 and up and the immunocompromised.

22:

The number of cities in the U.S. where women under 30 earned more than men last year. Experts say that the cities where women are getting ahead in wages generally have plenty of jobs requiring higher education levels.

 

87:

The number of victims from a wave of gang-related killings in El Salvador. This week, the nation declared a state of emergency in reaction to the tragedy. 

 

$778 billion:

President Joe Biden's proposed budget for U.S. Department of Defense. In 2021, the budget for the Department

was

approximately $705.39 billion.

7:

The number of hours missing in official records of Former President Trump's phone calls on January 6, 2021. The Congressional investigation committee

continues

to receive additional records

,

which could produce more findings

surrounding

the events at the Capitol.

 

$1 million: 

The number each American will receive in the latest round of COVID relief checks going up to a vote in Congress next week… just kidding… happy April Fools!

 
FEATURED TWEET
Taylor's sudden death came as a shock to me and the people who knew and loved him.

Not only was he a GREAT drummer but his personality was big and shiny and will be sorely missed by all who were lucky to live and work alongside him. pic.twitter.com/lxnEfSPKa2

— Paul McCartney (@PaulMcCartney) March 30, 2022
 Credit: Paul McCartney on Twitter. 
 To receive a copy of The Weekender every Friday in your inbox, sign up here. Be sure to follow us on Facebook, Twitter, and LinkedIn for more news and industry updates.